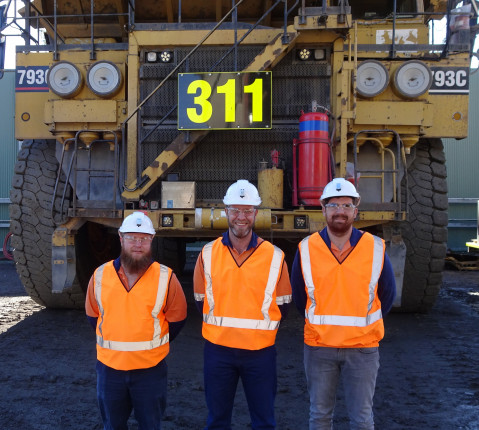 Massive demand for Rix's Creek Traineeships
Rix's Creek Coal Mine's recently suspended traineeship program is back on track, with the mine celebrating the arrival of three new trainees selected from a record 1,500 applicants.
Tim Bywater, Matthew Mulligan and Wayne Hemmings have each commenced two-year traineeships at the mine, and are already busy gaining experience operating trucks. In due course the trio will familiarise with a wide cross-section of skills, including bulldozer, grading, loading and elective drilling operations.
Rix's Creek Coal Mine Manager Brendon Clements said the decision to resurrect the trainee program amidst the mine's ongoing approvals process had been widely welcomed.
"Our traineeship program is a jewel in the crown of our employment structure, and suspending the initiative amidst ongoing uncertainty over the mines future was extremely difficult," Brendon said.
"These traineeships set participants up for rich and rewarding careers in the sector.
"Demand for traineeships at Rix's Creek Coal Mine is always high given that we offer one of the most comprehensive and valued sector training opportunities in Australia.
"It says a lot that we've gone to a new high in terms of demand for our traineeships, with a staggering number of applications.
"We always work to employ local people and Tim, Matthew and Wayne are standing proud at the end of the exhaustive selection process."
Tim Bywater said the transition into the mining sector was a big break.
"It's a pretty big prize to secure a traineeship like this, and the support from everyone at Rix's Creek Coal Mine has been terrific," Tim said.
"There's a real sense of camaraderie and professionalism, and pride in supporting the community."
Rix's Creek Coal Mine has taken on nine trainees since mid-last year and intends to accept three more early next year.
The mine decided to suspend the trainee program earlier this year, given that the mine's long-term operational consent - which expired on 24 June - had not been renewed by the NSW Government after an assessment period that commenced in 2013.
However, the suspension was reversed following a recent decision by the Independent Planning Commission (IPC) to grant the mine an interim consent extension, through to March 2020. Additionally, the mine's long-term operational consent application is nearing the final stage of the approvals process. The updated long-term consent would allow operations to progress for another 21 years.